Nigeria's Buhari Makes USAfrica Journal Cover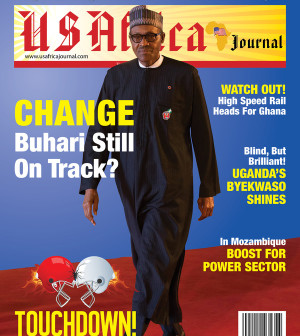 On the cusp of clocking one year in office, Nigeria's President Muhammadu Buhari strides majestically under our radar. With a presence as commanding as his, we couldn't resist taking a long, hard look to see the stuff he's made of, especially as it pertains to his promises to the Nigerian people during electioneering.   Is Buhari's train to the promise land of zero insurgency, economic rebirth and boom, transparency in government and so on and so forth still on track, or has it derailed at some point in the months leading up to the government's one year anniversary?
While we ponder over that, we also have great news from Uganda, Ivory Coast, Ghana and especially from a young woman from Finland who fell in love with the Yoruba language, amala and gbegiri!
Fasten your seat belts, people; we are taking you on an exciting trip around Africa and African communities in the United States. No fluff, all good stuff. Who else does that but USAfrica Journal – "America's leading quality general interest magazine for Africans in the Diaspora."
We lead; others, well… do what they do!
Go get your copies now!