Byekwaso: Blind, But Brilliant!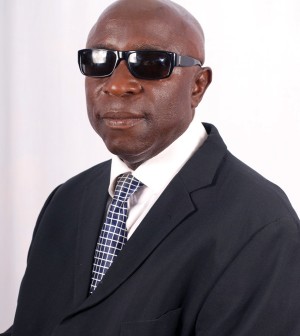 By Eldana Mengesha | USA
Though fate started Charles Byekwaso off at the lowest rung of the ladder, he had his big brown eyes set at the top. Born poor, Byekwaso's mind and eyes were fixed on bettering his lot in a community ravaged by poverty. Though his father couldn't afford to send him to school, he stubbornly held on to his conviction that education is one of the major keys he would use to unlock the gates to his dreams. And he had plenty of dreams. He wanted to buy a car (at a time when riding a brand new Raleigh bicycle would be considered more than adequate for a man of minimal means).
Byekwaso wanted to travel overseas, see and appreciate the beauties of the wonderful world we all live in. He had it all mapped out to the last detail until the doctor told him one day: "You will never see again!"
The words knocked him out cold. When Byekwaso recovered from the shocking news that he had permanently lost his sight, he was devastated. "December 4, 1978 will never go away from my memory," he said. "It was the day I lost my sight due to torture by Idi Amin's soldiers."
For the faint at heart, that could have been the end of one's dreams, but not for Byekwaso who, though now handicapped, never let go of his dream and passion for higher education. Last year, Byekwaso won Hadley Institute for the Blind and Visually Impaired's International Student of the Year award, in the United States.
Born July 28, 1955 in Kisembe, Uganda, Byekwaso's parents had twelve children, out of which only seven survived. The others died in infancy. He was child number seven. Having lost many children before his birth, his parents named him, "Byekwaso," which means imaginary, unreliable or unsure, Byekwaso explained. "They weren't sure I would survive."
Byekwaso defied the odds. He lived.   He grew, and went to school to study bookkeeping and accounting. He also earned an advanced certificate in typewriting. He was gainfully employed in the Ugandan Ministry of Labor as a clerical officer of accounts before the civil war in the country changed the trajectory of his life.
"When the doctor told me rather bluntly that my eyesight was gone forever, I was shocked. I spent six hours thinking of what to do next. I remembered reading about blind people, who lived fruitful lives and became useful to society, in a magazine usually bought by my father. The thought comforted me that though I'd lost my sight, I could still be useful. Also, at the hospital where I was receiving treatment, I learned from the parents of a younger boy, who had hurt his eyes and had also come for treatment, about Salama Rural Training School. They told me blind persons were trained and very well looked after at the school.   I was eager to start schooling there. However, by the time I got the chance to join the school, the situation had changed. The war was on. Sometimes, we missed meals. We had to be very patient and determined to get through the difficult times to complete our studies.
"After my discharge from the hospital, I went straight to Salama Rural Training School for the Blind. So that, in a way, helped me avoid the snide remarks I might have experienced had I gone straight back to the village as a blind person.
"While many people, including my family members, believed in me — that I would find a way to get past the problem — there were others who thought it was over for me because I lost my sight."
But it wasn't over for Byekwaso. He has moved several steps above and beyond his sorry state many years ago. He has undertaken leadership positions in several associations for the blind and other disability organizations. In our encounter with the man recently, we asked him, in addition to many other questions; "How did you cope with the demands and responsibilities of such positions?"
"Many of those responsibilities were quite challenging. For example, at the time I was elected to the Uganda National Association of the Blind Board, the association had no office, and its bank account had less than one dollar! We used to hold our meetings on the verandahs of other people's buildings. The association had no clear membership drive or programs. But with my participation as its treasurer, we were able to create programs catering to the needs of blind people. The association now has a secretariat and its own premises. Secondly, there is a small association of blind farmers which I joined immediately after I completed my training at Salama Rural Training School for the Blind. The association is called the Mawotto Association of the Blind and it comprises blind farmers and business persons. It was in a poor state when I joined. But we all worked hard at improving it. Now, it has a bank account, operates a lake transport project, and even has premises for rent in the small trading center. I really thank God for His many gifts in my life. I work well with others and I'm able to assist in finding solutions to problems."
So what should a visually impaired person who sees disability as a hindrance to achieving his/her dreams do?
Seek information and advice from others who have the same disability and particularly those who have struggled and succeeded in life. They should understand that they're not the only ones with such challenges. There are others whose situations are worse.
The point is, one must be as creative, tolerant and hard working as much as possible. I have seen situations where people who have no disability at all admire our personal conduct and developments. Above all, getting involved in educational courses from various institutions like Hadley Institute for the Blind and Visually Impaired can add strength and value to one's life.
How does it feel winning the International Student of the Year award?
I was very excited when I received the message from the director of student services. I had to read the message several times.
How did you learn about Hadley Institute for the Blind and Visually Impaired?
I picked up the course catalog plus some other information from one of the stalls at the Africa Forum for the Blind in 2004. I had always wanted to take correspondence courses even before I lost my sight. Financing had always been my major obstacle. So when I saw that this was an institute offering free education, I enrolled immediately.
Are there any specific goals that you're working towards?
I want to take as many courses as I can to broaden my knowledge in a number of fields. I also want to prove my abilities of using Braille in accomplishing different important tasks.
Look into the future, tell me what you see — for yourself, Uganda and Hadley Institute for the Blind and Visually Impaired.
Hadley Institute for the Blind and Visually Impaired courses have made me one of the more knowledgeable persons in Uganda. I participate in a number of national activities, making decisions as well as responding to different issues as an informed and knowledgeable person. I want to see  Hadley Institute continue providing education services to people all over the world. If possible, I want the school to consider offering diploma programs even to overseas students. I would also like to see the school acquire university status so many people around the world can benefit from it.
Is there anything else you will like to say to anyone reading your story?
"Lend a helping hand in whatever way you can to a disabled person in need. The kind of assistance that I received after I lost my sight may not be available to everybody. If the less-fortunate visually impaired get help, they too can live meaningful lives."
A version of this article appears in the print edition of USAfrica Journal, Vol. 3, Issue 1, 2016.