I Want Every Artist's Voice Heard – Mama Nike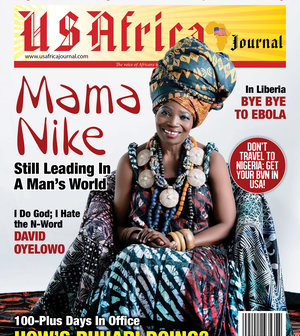 By Tunde Kolawole | USA
From the fine sands and interlocking concrete pavements of Lekki Peninsula, Lagos, the imposing white building rose majestically and stood its ground firmly. Amidst a number of equally noteworthy architectural masterpieces off Lekki/Epe Expressway, Nike Arts Center heralded its own existence, not surprisingly, with an artistic ambience hard to ignore. From about a quarter of a mile to its location, the adorning red roof of the building, (strategically festooned grandly with the words: NIKE ARTS CENTRE) proclaimed and beckoned irresistibly to the world bustling around it.
I yielded to the call.
I haven't seen Chief Mrs. Nike Okundaye (a.k.a Mama Nike), the world renowned artist in well over a decade, but there she was on this sunny Sunday at the five-floor ultra-modern cultural art center bearing her name, still standing tall, regal and clearly in charge and at ease in her elements. Keeping her company, as usual, in the gallery were creative masterpieces, and enduring arts of various forms and shapes spanning generations of renowned old and new artists.
I took it all in, and exhaled.
Regardless of which direction you turned, the ubiquitous artistic gems in the gallery spoke volumes. Physically inaudible, yet loud and clear to those in tune with the pervasive spirits of creative muses oozing off the princely artworks on the walls and floors of the five-story gallery.
I felt the soothing blast of their breath.
"The spirits lead and I simply follow," Mama Nike said after we exchanged pleasantries. "I talk to my works, and they talk back. The moment I start working on a project, the spirit working with me at that particular moment tells me exactly what to do. So, I generally do not know what a finished work will look like until it is all done. I sketch, draw, paint, create until the spirit working through me says, 'it's over; stop!'"
Hearkening to the voices within, and around her has certainly paid off for Mama Nike. For one, our meeting point this afternoon, the multi-million dollars Nike Arts Center purposely built as a world class gallery on choice real estate location in Lagos, is a long way from the rural village of Ogidi Ijumu, Kogi State, Nigeria where Mama Nike hailed from. The young girl who couldn't go beyond elementary school because her parents couldn't afford to send her to school now holds workshops and gives lectures at top colleges and universities around the world. And at this point in her career, Mama Nike is certainly light years away from Oshogbo, Osun State where her foray into the world of arts began over four decades ago.
The guiding forces and voices of the spirits have no doubt found in her a worthy vessel for their messages. Between then and now, Mama Nike has risen from her humble beginnings to become a leading African artist dedicated to the cause of using arts to empower young and often indigent people from several parts of Nigeria. Nike Centers for Arts and Culture in Oshogbo, Ogidi, Abuja, and Lagos regularly host hundreds of visitors, art enthusiasts, collectors, students and researchers from within and outside Nigeria.  Across Africa, Europe and North America, Mama Nike has garnered numerous awards and recognitions for her works and efforts at bettering the lot of the Nigeria's rural women in particular. Just this past June in the United States, the National Black Theatre, New York honored her with the Dr. Barbara Ann Teer Spirit Award for, according to Sade Lythcott, the Chief Executive Officer of National Black Theater, "creating opportunities, free, for all women who want to learn the indigenous crafts of the ancestors and for being a warrior, a spirit warrior that is transforming our globe through her arts, her spirit, and her visions."
I could chat ad infinitum with Mama Nike about her huge and magnificent visions but as it is so often the case, time was not our friend. As always, her plates were full, and I had very limited time to catch up with her. Yet, like a good mother, she weaved in and out of her many tasks for the day to quieten my inquisitive spirit.
The Arts Center in Oshogbo and other places are still up and running, training hundreds of people. Your works are all over the world. Why put up a gallery here?
It is good that we are training people and many of them have become independent, but there are still many challenges out there for the artists, especially the young and relatively new ones. Training is one part, exposure is another; and that is crucial. I have always wanted artists, no matter how small, to have a voice. I wanted every artist's voice to be heard. Having a voice increases their chances of success. So the main reason for building this specifically as a gallery is to offer the much needed platform for artists' voices to be heard. If they are heard, and in turn successful, then my dream of spreading African arts throughout the world and letting the unborn generations know that our culture is very rich becomes and remains a reality. I've always wanted to have and leave a legacy that will enable young and upcoming artists to continue producing and creating even better works than what we the older ones have done.
Speaking of leaving a legacy of traditional arts and culture for the young ones to embrace and take to greater heights; so far, do you see that happening?
Yes. Look at Baba Bruce [Onobrakpeya]. You can see from his body of works that if anything should happen to him today, his legacy will continue. Same thing with my works and those of many other notable Nigerian artists. Within my immediate family, despite having advanced degrees in various disciplines, all my children are into arts. Outside the family, I see young artists rising and doing very well. The Arts Center that I created in Oshogbo has trained so many artists who are now independent on their own, working as artists and earning decent living from their works. So I think we are on the right path.
You've been doing this for over forty years; now you have this gallery here to exhibit your works and those of others. Could you be thinking of retiring anytime soon?
No. That's not the case. I enjoy doing this. I don't get tired doing it. The works constantly talk to me. I cannot sit down and not do anything. There's always something for me to do. Whether I'm here at the gallery, or stuck in traffic, I always have my pen close by. Art relaxes me. Oftentimes, I am at the mercy of the spirits guiding my hand. Every stroke is at the behest of the spirit of that particular work I'm working on. The spirit tells me what to do. For instance, see the face emerging from this piece [She picked up a drawing she was working on and showed me]. When the spirit that is working with me says; put an eye here or there, put the firewood right at this spot, I comply. So the spirit is the driver taking me wherever it wants me to go. When and where it stops is where I stop. Once done, I feel relaxed. The artwork talking to you only a while ago now starts speaking to multitude across the world. It does not matter what your language is, it speaks to you. It's like therapy.
As a young girl back in Ogidi, even in Oshogbo, did you ever see yourself where you are right now – a world renowned artist in your own ultra-modern gallery?
NO. If anyone had told me I would come this far and be successful, I would have called the person a liar to his/her face. Because then, I went into it for the love I had, and still have for arts, and also to fill the void created by my lack of formal education. I realized early on that this is the only work I can do and enjoy tremendously, so I decided to package myself appropriately and just continue honing my skills and improving myself in various ways. What you see today is the result of years of dedication, hard work, perseverance and true love for the arts.
So everything is well and rosy now, there are no more challenges?
Of course not! There are still times I can hardly buy diesel for the electricity generator. One of our major challenges, and I would say for any business owner here is lack of stable electricity supply. We spend a lot in that regard to keep the gallery going. Secondly, security is another thorn in our flesh. The art lovers and collectors who come from various parts of the world to buy our works no longer visit as often as they used to do because they are concerned about their personal safety as well as that of their property. The other challenge this group of people faces is the hurdles they have to go over before they can get visa to come to Nigeria. For many of our patrons from outside the country, getting a tourism visa to come to Nigeria is like trying to push a camel through the eye of a needle.
So what do you say to the young artists?
Produce excellent works. Package yourselves in a nice way and be honest. It is also important to be patient. Don't start off rushing after money. Do it for the love of the arts. If your love for the arts is genuine, if you are honest, passionate and dedicated to your crafts, money will come. You have to also plan and know how to manage your money.
You've been honored with several awards at home and internationally for your works. You are a positive reference point, and a force to be reckoned with in the arts world. Professionally, is there anything else that you are still striving for?
I would love to see more youths take on this traditional art and take it to a greater level, and not let it die. I really want to concentrate on that. We can start with the children as early as age six. Teach them the basics of the traditional arts and culture in their areas of origin. The ones that are art-inclined will pick it up and build upon the knowledge as they grow older. Our government should look into the possibility of including this in the school curriculum. On our part, we will be happy to tell interested authors and educationists how all these wonderful pieces of arts are done from A to Z so we can preserve this heritage for the coming generations. Education is very important especially for the children because they are our future.
This article was published in the print edition of USAfrica Journal, Vol. 2, Issue 5, 2015.  For reprints, email info@usafricajournal.com