Nigerian Gets $25,000 Anzisha Prize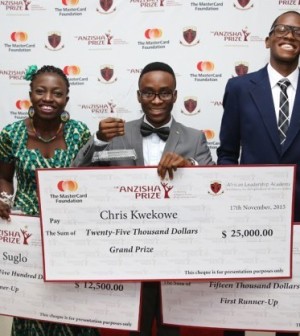 … Cameroon, Ghana Excel
Organizers of The Anzisha Prize for African youth entrepreneurship has announced Chris Kwekowe, 22, of Nigeria as winner of this year's $25,000 grand prize.
Kwekowe is the founder of Slatecube which offers job-relevant skills learning platform and job placement services.  The organizers noted that not only has Slatecube had significant success since inception, the company is also poised to serve as an inspiring beacon for other youth interested in entrepreneurship.
Fintech entrepreneur Fabrice Alomo (22, Cameroon) was first runner up ($15,000) while fashion entrepreneur Mabel Suglo (22, Ghana) was second runner up ($12,500).  The 2015 Anzisha Prize finalists received their prizes yesterday at a ceremony held in Johannesburg.
Kwekowe founded Slatecube to increase job access for youth by creating a platform on which they can build job-relevant skills and linking them with virtual internship opportunities that enable them to develop experience. His vision for the venture is to see the business grow into a large-scale provider of relevant job market access, with increasing ability to open doors for job seekers.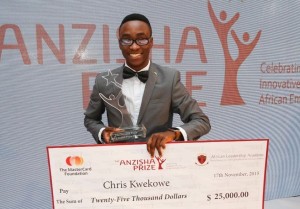 "I did not believe that I could have won the prize when the competition started. But I feel confident in what I can achieve now given the capital and training that I have received through the Anzisha Prize. I congratulate all the other finalists as I believe they were all very impressive and look forward to engaging them as we support each other to grow going forward," Kwekowe said.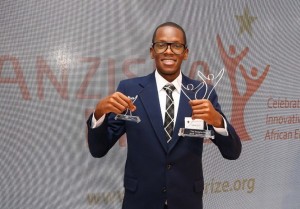 The first runner up, Alomo's My AConnect aims to increase the ease with which unbanked people in Cameroon transact and gain access to financial services. My AConnect provides AMoney, and electronic currency with which unbanked individuals can make purchases with over 500 enterprises by depositing money through charge cards. Alomo's vision is to increase financial service access for Cameroon's 17 million unbanked people.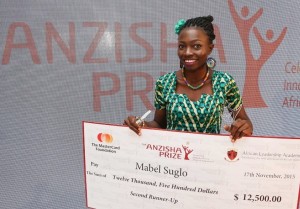 Second runner up, Mabel Suglo's Eco Shoes offers an assortment of shoes and accessories that are fashionable and Afro-themed, using recycled materials. Her employee-base is predominantly disabled individuals. She aims to increase their economic participation through job opportunities. Mabel believes that disability is not inability.  She employs people with a variety of disabilities to create products that she sells into wholesale and retail markets.
The Anzisha Sector Prize in Agriculture was awarded to Chantal Butare, founder of Kinazi Dairy Cooperative. Chantal's cooperative collects milk from over 3,000 families in her community, and processes the milk for sale. She generates income for these families, as well as for ten milk collectors who are in her employ.
Applications for the next cycle of the Anzisha Prize will open on February 15, 2016. However, nominations for promising youth entrepreneurs are open all year round.