Is He The One?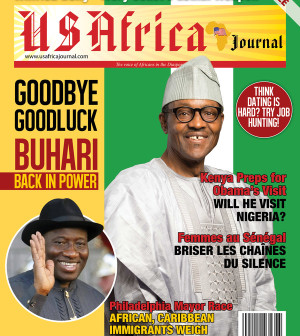 Or Shall We Look For Another?
By Tunde Kolawole | USA
Thirty years after former Nigeria Head of State, Major General Muhammadu Buhari was overthrown in a coup; the slim, soft spoken generalissimo has made his much sought after comeback to assume the reins of power as a duly elected civilian president of the Federal Republic of Nigeria.
With this feat, Buhari is in effect getting the rare second chance which many seek (but never get) to rewrite his own story in the annals of Nigeria's political narratives.  And as Buhari  embarks on this special journey with history; before the vanquished and the victors, especially those still reveling in the throes of victory at the recent polls, swoop in like vultures on his trail and tailcoat and begin the process of sucking life out of his administration with incessant demands for gratifications (for jobs well done at the electioneering), there are certain salient points that we need to make sure the soldier-turned-politician in whom we've all entrusted our fate for the next four years is clear about.
Major General Buhari needs to know that unlike his first coming as the Head of State, the battle field is different now.  In the quicksand of Nigeria politics; fatigues, jackboots, horse whips and sundry paraphernalia of repressive military dictatorship will not cut it.  Unlike his first coming, he will have to operate under a political dispensation that is totally different from the one he was familiar with, and largely remembered for: a brutish, cold-hearted military regime that stifled opposition with its draconian vice grip on the jugular of the Nigerian populace.
In this new dispensation, it is important for Buhari to know that government agents cannot whip, torture or maim people into line (even when it is glaringly for their own good).   In the democracy, under which, God willing, he would be steering the affairs of Nigeria for the next four years, Buhari cannot expect the governed to catch cold each time he sneezes.  In this new dispensation, laws are not made at will, or at the whim and caprices of the president.  Decrees have no place in this form of government.  In its place, there's something called the rule of law which even the president must uphold.  That means, among other things, people cannot just be thrown in the gallows just because they say or write things that government or its officials deemed embarrassing.
Reports claiming Buhari has evolved abound.  His supporters say he knows fully well what he's getting himself into, and he's well and adequately prepared for the task.  The President-elect himself has stated publicly, and rightly too, that his past actions as a Head of State were informed by the very nature of government under which he served.   Military governments, he reminded us, generally rule by decrees and iron fists; echoing in essence, the ancient Greek physician, Hippocrates in Aphorisms:  "For extreme diseases, extreme methods of cure."  Put differently; desperate times require desperate measures.  No doubt, Nigeria was, and arguably still is in desperate times.
And for our misgivings about his fanatical religious inclinations which birthed his infamous faux pas: "God willing, we will not stop the agitation for the total implementation of the Sharia in the country," Buhari's handlers say not only has he mellowed down, but also, he has seen the light.  Though critics say his softened tone on religion was just for political expediency, Buhari was quoted earlier this year as saying: "Religion must never be used as an excuse to divide us, oppress others or gain unfair advantage.  All my life I have expressed the belief that all Nigerians must worship God according to their wish."
So, because Buhari is an honorable man, we will take him at his word.  However, because we are stakeholders in the present and future of Nigeria, Buhari, like many before him, will not have a free pass.  Collectively and individually, we should put him and his team under our microscopes.  In the coming months and years, his manifesto of change must be subjected to the strictest scrutiny by all concerned  for signs of any positive change, and in fact anything remotely good, emanating from the second coming of the man from Daura.
From Daura, Katsina State, to across Nigeria and even amongst Nigerians in the Diaspora, the drums of victory are still audible in the arena.  In the ensuing dance featuring big party stalwarts, acclaimed and self-styled kingmakers, turncoats and carpetbaggers, Buhari, hopefully will not get carried away by the euphoria of his second coming, or the hoopla of fawners angling for plum political appointments.  Before reality starts meshing with the unreal in the playing field of politics, Buhari may be better off holding this somewhat sardonic Yoruba adage close to his heart:  Pasan ti a fi na iyale, o wa loke aja fun iyawo (which loosely translated means: The fate that befell the first wife lurks at the corner for the gloating new bride).
If this last election in Nigeria is anything to go by, then it is safe to infer from the outcome of the presidential election that brought bad luck to President Goodluck Jonathan and sent him packing from Abuja, that the new Nigerian electorates, now privy to the inherent power of the ballot, will not skip a beat, in flogging Buhari and the change-chanting political stooges and stalwarts like herd of errant cattle out of Aso Rock if the promised change in the people's socio-economic status remains a mirage.
For now, let's give Buhari all the support he needs to live up to the messianic halo that fate and majority of Nigeria's electorates have placed on him.
Editor's Note:  A version of this article was first published in the print edition of USAfrica Journal, Vol.2, Issue 4, 2015