The "Polytricks" of Politics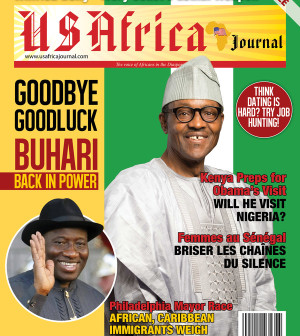 Given the significance of recent political development in Nigeria, and its potential for ripple effect across Africa, we couldn't but dip and wrap this issue in decadent sweet and pungent flavors of politics.  Regardless of what you've read or heard about the elections, our cover feature tells you the real stories behind the emergence of retired Major General Muhammadu Buhari as the next president of the Federal Republic of Nigeria.  Yet, some of us still ask:  Can Buhari really deliver?
Trust me, if politics is your cup of tea (or coffee), you'll get your caffeine fix from this issue!  You may end up being glad, or mad; you may jump up for joy, or you just might want to punch somebody!  Remember, you've being warned; beware the polytricks of politics.
For our apolitical readers, this issue is not all about politics.  Our offerings, as usual, are diverse and exciting.  We have exclusive stories and features from Tanzania, Ivory Coast, Senegal, Kenya, and several other places.  And with our other juicy regulars also included in this special edition, you'll only have yourself to blame if the magazines run out before you grab yours.