"We want to conquer United States market first"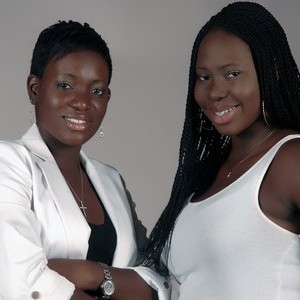 PART 2 OF OUR EXCLUSIVE INTERVIEW WITH THE ASO DAMISI SISTERS
Meet Moriamo Johnson and Latifat Obajinmi, the two –sister team running the affairs of Aso Damisi (ah-SHAW DAH-me-see) the latest high end fashion house in the city of brotherly love, Philadelphia.  Featured on the cover of our premier issue, the Aso Damisi sisters, better known in the industry as Mo and Tifa are bringing the traditional African print a.k.a Ankara into mainstream American fashion scene.  Starting spring, their latest collections will be at Macy's and other high end boutiques in the United States.   Below are excerpts from our exclusive interview with the duo at their Philadelphia, Pennsylvania office.
What inspires you? 
Mo:  Our inspiration starts from looking at different African fabrics.   We are very particular and very careful about selecting patterns.  We are proud of our origin and what we wear but we also do recognize that we have to present products that will fit and match up with what we are trying to do.
How did you get into the Philadelphia Fashion Incubator program?
Mo:  We applied but we almost never did because we weren't sure if such a big platform will be interested in us.  My husband kept pushing me to just do it.  So on the last day of the due date for applications, I drove all the way from New Jersey to Macy's  here in Philadelphia to hand deliver our application.  Two weeks later, we were invited for an interview and a crucial meet with the board.  We came in and presented what we had back then which were samples of previous collections, photos of silhouettes we've done.   We explained our brand; what we are about and what we are trying to build.  Few weeks later, we got a call from Elissa Bloom saying we've been accepted into the program.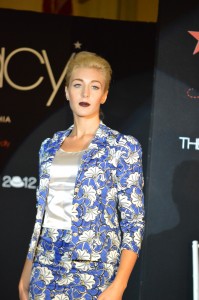 How did that feel?
Mo:   Even to this day, it still feels surreal.   We still ask ourselves whether this is really happening.
Tifa:  I mean, from dreaming it up about two and half years ago, to being here now; It almost seems like the whole thing is just meant to be and it's like we had divine intervention, like God looking over us and always putting us in the right places to keep this company going.  This has made us a strong believer that this is meant to be and that this will succeed because to be doing this for just two and half years and be where we are now, is amazing and almost unheard of.
So what next?  Milan or Paris?   
Tifa:   Our brand is definitely venturing overseas.  In fact presently, we are working on getting into a showroom that will introduce us to the international market.   But our main focus is the United States.  African fashion is embraced in Europe and other places but not yet here in the United States.  So we want to conquer this market first, and be the trailblazer [of the genre] in this country.
How are you/ your brand coping with competition from the big names in the industry such as Gucci and Aldo who have also gone into experimenting with African prints?    
Mo:  Over time, we've come to realize that the involvement of such big names could be a good thing because now the idea is out and people, even of non- African origin are starting to notice and appreciate the trend.
Tifa:  And it also helps us because we're actually Africans.  We are in that unique position to tell the story from a uniquely African perspective which the big non-African designers do not have.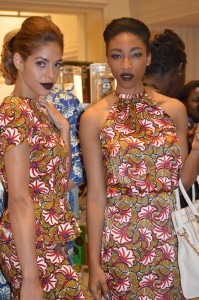 Who taught you guys how to sew?
Latifat:  I took clothing design class in high school here in the States because it was one of those Home Ed classes one had to take.  So I already knew how to sew on the machine before we even came up with the clothing line business.  But when we started the company, it became more of a necessity to really know it beyond just having an idea of how to do it.  So I worked with some Nigerian tailors in Newark, New Jersey.  I also went to Nigeria for a summer and worked with a tailor there.  That was quite an interesting experience because the machine was manual.  It was all leg work.  So that was a great workout!
Mo:  My sister being more artistic than I am focuses more on the creative side while I focus more on the business side, but we both contribute to every area of the business and kind of rub off on each other.
So how much support are you getting  from your family considering that fashion designing is not quite a typical  choice profession which educated Africans would generally want their children to go into?
Mo:  Obviously, we couldn't tell our parents we wanted to read fashion in school.  So we went to school and did all the good things we were supposed to do.  We went to college and graduated.
Tifa:  Mo got a job.  So when we first started the company, I think our family viewed it more as a hobby and nothing really serious.  Their attitude was somewhat 'okay, you guys are starting a clothing line, great.  Just make sure you get through college and get a degree.'  But once we got into this program at Macy's, they really saw it as being a serious business, and seeing what we are trying to do, and I think they've become even more supportive about it.
WANT MORE?  READ THE EXCLUSIVE IN-DEPTH PART 1 OF THE ASO DAMISI STORY IN OUR PREMIER ISSUE NOW ON NEWSSTAND AND AT YOUR LOCAL AFRICAN GROCERY STORES.